Fortune Cookies
Ever since I proposed to Wen via a fortune cookie, I've kind of been obsessed with them
FortuneThis year your highest priority will be your family.
FortuneLife to you is a bold and dashing responsibility.

FortuneThere is no sorrow in the world that a hot both (sic) both wouldn't help, just a bit.

FortuneToday is the tomorrow we worried about yesterday.

FortuneGive yourself some peace and quite (sic) for a few hours.

FortuneYou feed your body every day. You must also feed your mind.

FortuneA true friend is someone who is there fore you when he'd rather be anywhere else

FortuneToday is the tomorrow we worried about yesterday

FortuneThere is no sorrow that a hot both wouldn't help, just a little bit

FortuneThe world will soon be ready to receive your talents

FortuneThe wise thing to do is to prepare for the unexpected

FortuneA phone call to a good friend will ease your mind and lift your spirits

FortuneWisdom comes from experience

FortuneSon said: "Even Popeye didn't eat his spinach until he had to"

FortuneThe harder the conflict, the more glorious the triumph
FortuneYou will inherit some money or a small piece of land

FortuneLive each day well and wisely

FortuneThe most exhausting thing in life is being insincere

FortunePerhaps you've been focusing too much on that one thing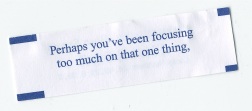 FortuneA truly creative person rids him or herself of all self-imposed limitations

FortuneNo man is without enemies

FortuneWhat is "right"? How do you define "right"? How about left?

FortuneA day of worry is more exhausting than a week of work

FortuneToday it's up to you to create the peacefulness you long for

FortuneThe smallest deed is better than the biggest intention

FortuneDo not mistake temptation for opportunity

FortuneWe must overcome difficulties rather than being overcome by difficulties

FortuneIt's a good time to finish up old tasks

FortuneDon't just think, act!

FortuneA smooth long journey! Great Expectations

FortuneYou have had a good start. Work harder!

FortuneDoing what you like is freedom. Liking what you do is happiness

FortuneThe star of riches is shining upon you

FortuneYour love of music will be an important part of your life

FortuneA sound mind and healthy body bring many happy events to your family

FortuneYour reputation is your wealth

FortuneYour ingenuity and imagination will get results
FortuneWe must not become complacent over any success

FortuneIt is better to be the hammer than the anvil

FortuneAll the news you receive will be positive and uplifting

FortuneGood news of a long-awaited event will arrive soon

FortuneFace facts with dignity
FortuneEveryone agrees you are the best

FortuneTake advantage of your great imagination. It will serve you well

FortuneYou are a gentleman of outstanding wisdom
BackstoryI got this one while Wen received "Take advantage of your great imagination. It will serve you well." We were flattered (see next)

FortuneFlattery will go far tonight
BackstoryI got this cookie while out for dinner with Wen but getting ready for a night out with the boys. She was not impressed

FortuneGetting together with old friends brings new adventures

FortuneYou are a lover of words, someday you will write a book

FortuneNew people are entering your life, bringing new concepts

FortuneThe only sure thing about luck is that it will change

FortuneToday you should be a passenger. Stay close to a driver for a day
BackstoryI received this one while driving with Wen. She wouldn't let me be the passenger
FortuneWill you marry me?
BackstoryThe cookie that started it all